Be Nice to Archaeology!
Archaeology needs your help to last into the future! These places have been here for hundreds or thousands of years, but they are fragile and under threat. There's no better way to learn about the past, or feel connected to history and heritage than to stand where past people have stood. We all share a responsibility to make sure that others can have that same experience as well.

Here are five ways that you can help protect archaeology sites, whether they are 13,000 years or 50 years old!
How to be nice to archaeology:
Leave cultural artifacts or features in place.
Take only pictures, leave only footprints.
Stay on designated trails.
Do not vandalize archaeology sites. Vandalism includes things like scratching your name or other images into rock art sites, touching rock art, removing artifacts, leaning on or collapsing structures.
Keep a respectful distance from sensitive artifacts and sites, like rock art.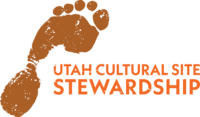 If you are interested in helping to protect archaeology where you live, you can become a Site Steward. With an adult or your parents, you can monitor an archaeology site to make sure that it is being protected! Learn more about the Site Stewardship Program.
Keep Exploring!
Return to the Archaeology page here.
Return to the I Love Utah History home page here.