Water is essential to human life. In Utah, people have accessed water in different ways.
Canals and ditches
In Escalante, the settlers built a canal the first summer they moved there. In fact, they tunneled 380 feet through a sandstone ledge. The canal brought water for crops and for use in households.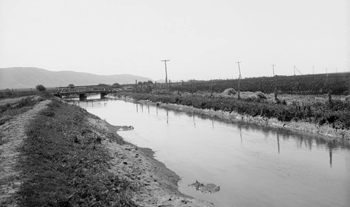 Digging a ditch wasn't enough. The settlers had to keep the weeds and mud out of the ditches and repair the ditch banks when they broke. Farmers maintained their own ditches, and the town worked together to maintain the community ditches.
The dirt ditches might have lost as much as 1/3 of the water through seepage, but later in the 20th century, people began to line the main canals with concrete or some other hard material.
Hauling water
In many communities people got household water from a ditch or river, then hauled the barrels home on a "water lizard," a sled made of logs or boards. In Washington County, Ether Wood was in charge of getting water for his family. He wrote: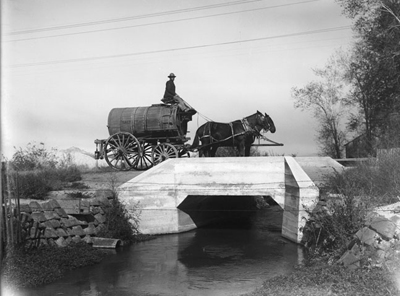 In the summer the river would get quite muddy and my mother would put milk in the water to settle the mud. When I went after another barrel of water, I would have to take the barrel off from the sled and rinse out the mud. . . . There was also the rinse tub to fill, then I had to empty the tubs when she was through. Wash days was the days I dreaded most, for I had to haul all the water in buckets to a copper boiler on the fire, where she boiled the clothes, then to the scrubbing tub, where she scrubbed them on a board.
Our water system was a fifty-gallon barrel on a sled made from two cottonwood logs, with a chain and single tree on one end to hook the horses to. I would go to the river, dip the barrel full with a bucket; coming back, we had a rocky hill to climb, which made the horse work to pull it. I would have to stop and let him rest several times.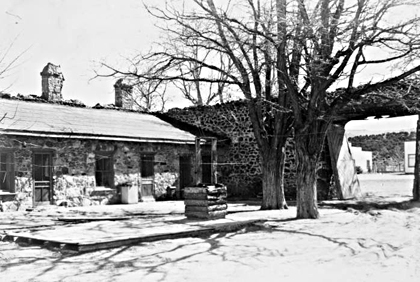 The first residents of Castle Dale hauled water from the creek in barrels to water trees and shrubs in town.
Wells
After a while, Escalante settlers dug wells for water, but the water had a lot of minerals in it, especially iron, and it tasted bad.
In Bountiful, early settlers dug more than 150 wells for use in their homes and gardens.
Dams
Building earth, stone, or concrete structures on streams and rivers was another method to "get" water. Indigenous peoples and early Euro American settlers dammed the creeks with whatever they had available: rocks, brush, logs, dirt.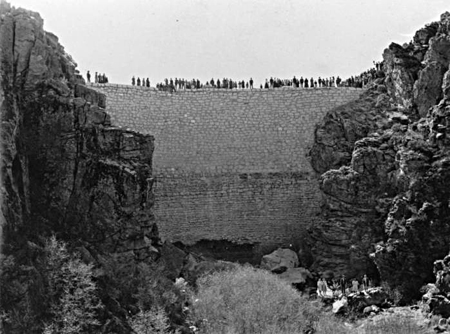 Settlers in Beaver built dams using hand tools and horses, wagons, and scrapers. James Horace Skinner worked with other farmers to build dams and dig canals. He said:
"All this work was done free. We furnished our own tools, and food, and bedding, the food we cooked on the camp fire, our bed was two or three quilts laid on the hard ground, and 2 or 3 to cover us. No tents to protect us from the rain or cold. If it rained or snowed we had to take it as it came, many nights I have lain in wet bedding, shivering with cold."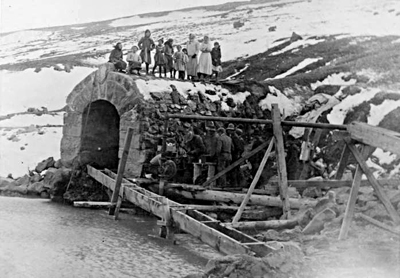 In 1872, John D. Lee and his wife Emma Lee tried and tried to dam the Paria River so they could water their crops. But flash floods kept tearing out the dam and filling the ditches with mud. Read John D. Lee's journal:
"June 12, 1872: Now begins a Tug of war. A dam 8 foot deep & 7 rods long [a rod was 16.5 feet] to make besides heavy repairs on the ditch, before water can be brought to revive the dyeing crops, vines & trees. However imidetely we went to work . . . I with my 4 litle boys & what assistance Emma could render with a young babe at her Breast, we continued our exertions for 21 days, watering the fruit trees and some vines by hand & by the grace of God we finally conquered & brought out the water & began to revive our dying crop."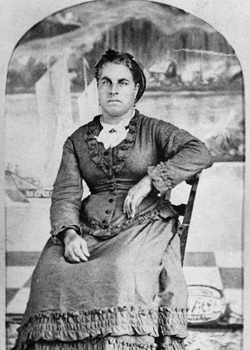 However, 6 weeks later, when he came back after being gone, he found that
"a much greater freshet than any of the season had been & swept a portion of my Dam away & filled up my eregating ditch some 2 feet deep with muck or clammy mudd. To remove this deposit out of the ditch was more than equeal to making a new ditch. . . . At the expiration of 10 more days labor we had the water out again."
Later he wrote that his family was able to enjoy "green corn . . . summer squash, cucumbers, beets, onions, reddish, & beans and a few melons. . . . They are not only a Treat but a great blessing to us in this Desert country."
Pipes
By the end of the 19th century people began to construct pipes to move water from one place to another. In Salt Lake County the first water (and sewage) pipes were built for residents on the east side of the valley. This meant that people on the west side of the valley–often poor immigrants or people of color–did not benefit from the convenience of piped water until later.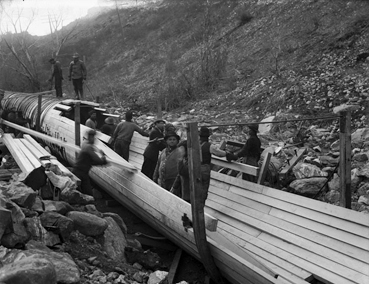 In the 1930s, the town of Escalante dug a trench from a spring 18 miles away and laid a pipe in it to bring the springwater to town. This gave them water that was "pure, soft, and sparkling with no disagreeable flavor." Finally!
Reclamation
Reclamation, or the process of cultivating dry lands, was a major effort of the federal government in the early 20th century. The Federal Reclamation Act passed in 1902. Through this act, the government built dams in the West. The water users were to pay back the costs over time.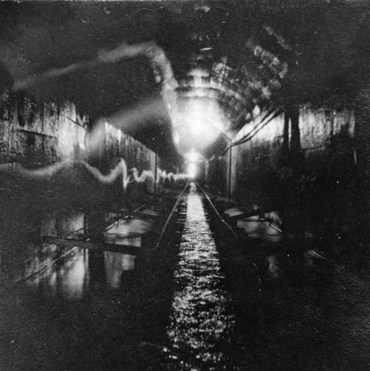 In 1906, the government began the Strawberry Valley project, which included a 20,000-foot tunnel from Strawberry Valley to Utah Valley and a dam. The project's main purpose was to get more water to the farmers in Utah Valley. The Strawberry Reservoir dam was completed in 1913.
Central Utah Project
In 1948 Congress passed a bill creating the Central Utah Project (CUP). In this complex project, the federal government would build a huge system of reservoirs, canals, and tunnels. Some of the water would be moved from the Uintah Basin to the Wasatch Front for industry and households. Some of it would be used in irrigation. Work on the project has spanned decades. In 1992, a local water district was authorized to complete the project features that had not yet been constructed.
Keep Exploring!